Real Women, Real Purpose: Coach Becks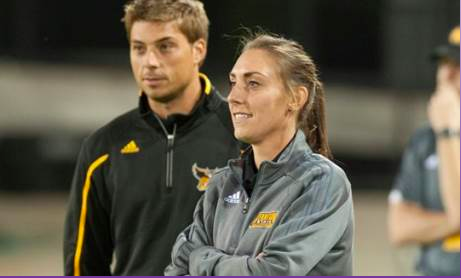 Once a month, Darlington hosts an empowering female speaker through the Real Woman, Real Purpose speaker series. February's speaker was Darlington's very own Rebecca Nolin aka Coach Becks. Nolin is the assistant director for the girls soccer academy and prior to Darlington she was a professional soccer player with the Atlanta Beat.
Nolin focused on the importance of grit and hard work, not only in the now, but also for the future as things come full circle.
"I had a mum that was very much like 'figure it out,' no time to dwell things and mope around and just sitting in that fuzzy 'oh this sucks.' It was very much 'move on, get on with it," Nolin said. "If you don't like that situation, how are you going to prevent it in the future in order to not find yourself back in that hurdle or block whether it's being told you're not good enough to play, the hurdles of not being able to get to practice and needing to hop on a bike and train to get there. So it's just like find a way. If you really want to do it, you'll find a way."
Nolin worked hard to overcome the obstacles in her life and this inspires her players.
"Her constant hard work inspires me everyday both on and off the field. Her ability to create opportunities for herself to advance in all aspects of her life really reached me in a sense. I also found the steps taken to ensure her family was at number one importance in her life very touching," junior Beth-el Lewis said.
Despite the obstacles Nolin faced, she was able to work her way onto the Atlanta Beat soccer field which later helped to present her with the opportunity to coach at Darlington after she left the team.
"I took away that accomplishing goals is realistic as long as you have a positive work ethic and work hard. However, you must weigh the importance of your dreams and decide what your willing to give in returns of what is gained," Lewis said.