Spring Break, a Teaser of Summer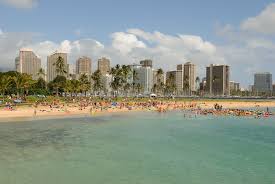 Spring break is like a glimpse of what summer will be like for some students when they visit their homes worldwide. Due to this, returning to school in the second semester feels like a reality check.
"Spring break was like a teaser of summer for me," said junior Katherine Henning, who flew down to Miami to enjoy some time in the sun. "It felt like summer was already here."
Students have found the adjustment of coming back to campus after the break "challenging," said sophomore Karis Knowles, who arrived back to Darlington from her hometown of Nassau, Bahamas, after Spring Break. "I enjoyed my break in the warmth of the Bahamas, where I did lots of swimming, and partied with friends," Knowles said. "It really did feel like summer."
Students who travel to warmer destinations over Spring Break feel that "Summer is in the air" and the school year should be over already, knowing that there are still two months left until the thrill of summer floods the air. 
"These last two months are the most challenging months when we students are stressed about our grades, as we want to make sure we end the year on a high note," sophomore Jayden Kimani said. "It becomes difficult being a student-athlete; however, I feel that I am managing my time better."
High school students are often concerned about year-end examinations, portfolios, and the expectations of summer employment, graduation, and adult responsibilities (seniors)—pressures placed on them in a matter of months. Many high school graduates will be living on their own, working full-time, or moving to a new place for college. 
Their lives will change with new responsibilities they don't know about yet. 
Senior Ryan Glass plans to attend Augusta University in the fall to continue his athletic and academic careers. Glass has competed for the cross-country and track teams at Darlington throughout his high school career. "I am very appreciative of the experience I have had at Darlington, and I look forward to the next chapter of my life." When asked what he would miss most, Glass said, "I will miss the memories I made with my cross-country team." 
Teacher stress weaves and coexists with students' concerns at the conclusion of the school year. This time of year is especially difficult, said math teacher Al Shorey.
"For many instructors, because of all the testing and the continuous requests to differentiate, integrate school projects, meet with parents and students, maintain high engagement, and respond to student's emotional needs, it can be completely exhausting," Shorey said.