Maffett, LaVangie and Holmes Honored at Volleyball Senior Night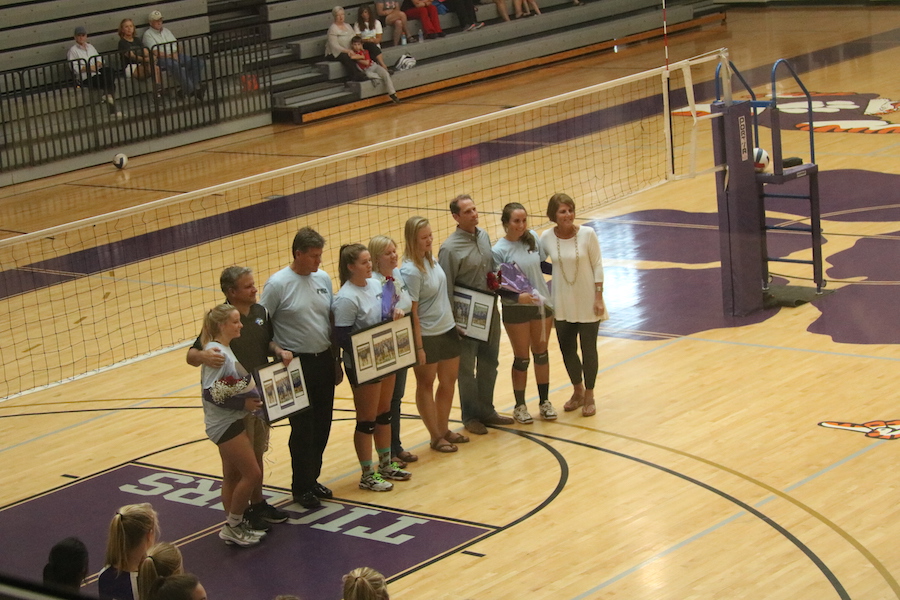 Seniors Callie Maffett, Lizzie LaVangie, and Julia Holmes were honored at volleyball senior night.The three senior players received flowers and and a display case with photos from their season. They all seemed very happy and honored about senior night.
"Senior Night was absolutely amazing this year," Maffett said. "Looking out and seeing so many friends and family there to support the volleyball team and the seniors was incredible, and all of us are so thankful to everyone who was able to come"
Seven-year player Julia Holmes was happy about how senior night went and how they played their game.
"Senior Night was a special event because of the people that were there supporting: my family, friends, and those who had taught me the game of volleyball," Holmes said "The best part was having my team play their best volleyball we have played all season on my last home game."
Lizzie LaVangie,who joined Darlington her junior year, was very appreciative of senior night.
"Senior night was really meaningful because I got to spend it with the coaches and teammates that I love," LaVangie said. " Everyone put so much effort into making it a great night for us seniors and I couldn't be more appreciative of the people who made it happened
The result of the game capped off an incredible night for the seniors  as they won their game against Armuchee in straight sets 25-16, 25-13, and 25-16.
"Our team played so well and we were so united as one family," Maffett said." The game kept each of us on our toes, but in the end we were able to pull out a win," Holmes said.