Jumanji Review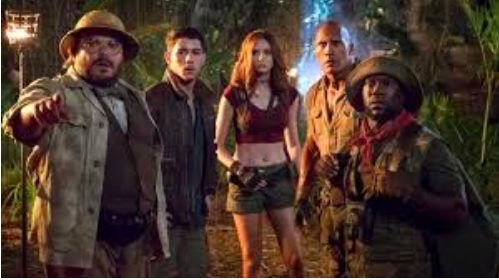 Jumanji: Welcome to the Jungle, directed by Jake Kasdan was released Dec 20, 2017. The film is a comedic-action packed movie starring Dwayne "The Rock" Johnson, Kevin Hart, Jack Black, Nick Jonas and Karen Gillan. The movie is based of the original Jumanji movie directed by Joe Johnston (1995).
The film starts off with four high schoolers who get detention and ponder upon an old video game console. They have never heard of the Jumanji game and they end up getting sucked into the games setting becoming the avatars they chose. They discover that you cannot just play the game but you have to survive the game and make it back to the real world. They have to encounter the most dangerous scenarios the games has and discover what Alan Parrish left twenty years ago. They have to change the way they think of themselves or they will get stuck in the Jumanji game forever.
Kevin Hart and The Rock bring so much laughter to the film. They are both brilliant actors who know how to reach their audiences attention. In one scene Moose (Kevin Hart) smacks Dr. Smolder (The Rock) and Smolder retaliates by hitting Moose into these boulders next to them. The entire theatre erupted with laughter. The film is good because although it is a bit far fetched from the original jumanji (1995) the film still has hilarious scenes and unexpected twist. I would give this film a 5 out of 5 for its hilarity and outrageous scenes.