Free Study Abroad Opportunity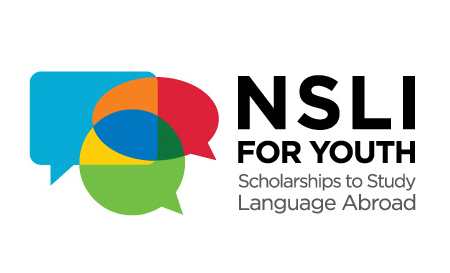 The National Security Language Initiative for Youth (NSLI-Y) is a free study abroad opportunity for all American high school students. 
NSLI-Y is a program from the U.S. Department of State's Bureau of Educational and Cultural Affairs. It is part of a multi-agency U.S. government initiative started in 2006 to improve Americans' ability to interact with people from around the world.
NSLI-Y has a variety of languages and countries which students can go to for their exchange. NSLI-Y offers Arabic, Chinese, Hindi, Indonesian, Korean, Persian (Tajiki), Russian and Turkish. Each of these languages are associated with certain countries where the language is spoken. These countries are, Jordan or Morocco (Arabic), China or Taiwan (Chinese), India (Hindi), Indonesia (Indonesian),  South Korea (Korean), Tajikistan (Persian), Estonia or Latvia or Moldova or Russia (Russian), and Turkey (Turkish). 
NSLI-Y has two types of exchanges available for American high school students; a 6-week summer exchange or a 10-month academic year exchange. Both of these programs include language study and cultural exchange. 
The typical life of a student on the NSLI-Y exchange may vary based on the host country or language. Generally, each student on the NSLI-Y program will live with a host family that is fluent in their target language, and go to language classes every weekday. Students should expect to have a cultural activity or excursion after classes everyday and one day per weekend. At least one day of the week is dedicated to the student and their host family. Students will also have free days to explore their host country. 
Students also receive a stipend while on program, which varies in amount depending on the program. The stipend includes any meals the students will have to pay for themselves, any public transportation fees for the students, any entrance fees, any money a student will need during their program. 
This summer senior Veeka Malanchuk went to Moldova for six weeks with the NSLI-Y Russian learning program. Malanchuk had a very positive experience and recommends the program for any student wanting to study abroad or learn a language through immersion. She would be glad to talk to anyone interested in NSLI-Y about her experience or thoughts on the program.
NSLI-Y is currently taking applications for all summer '20 programs and academic year '20-'21 programs. To apply or for more information, click the link below. 
Leave a Comment