Winter Sports Award Assembly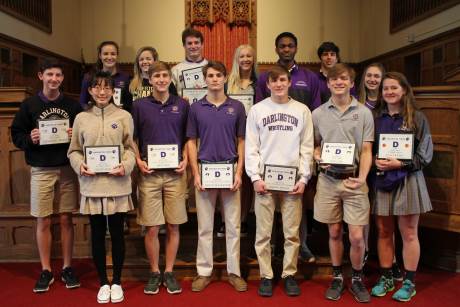 At the end of each sports season, coaches reward hard-working players with one of three awards: academic, pillar or MVP. Though the pillar or MVP award maybe be given in addition to the academic award.
Senior and co-captain Maddie Bou won MVP for girls swim and dive. Other recipients were junior Zenith Han, junior Jack Eady, senior Caroline Temples, and sophomore Alexander Greene.
"I was excited to win because I had this award freshman year and was happy to be getting again my senior year. I hope my teammates continue the swim traditions and make it to state next season," Bou said.
The wrestling team won state championship with members junior Dalton Blankenship, junior Colton Woods, senior Davis Peek and junior Rhett McDurmon.
"I was not extremely surprised to have won [MVP], being a State Champion," said Blankenship.
Senior Julia Holmes, junior Annabelle Braden and sophomore Caroline Dingler members of the basketball team received awards for academics, pillar, and MVP. Senior Sam Tackeberry won the academic and pillar award while junior JD Hull won MVP.
"I hope to influence my teammates by showing them that anyone can become great at something because you get out what you put into something whether it be sports, a fine art or academics," said Blankenship.
*Picture by Ruth Anne Anderson