Mini RUMPUS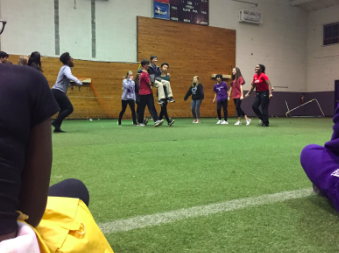 Mini-RUMPUS was an annual event for all first year residential and day students, with Summerbell and Cooper houses joining together in a tournament of dodgeball, lip-sync battle and the fear factor in preparation RUMPUS in January.
"Mini-RUMPUS is a way for freshman and sophomores to get a taste for what actual Rumpus will be like. It's a fun event for Cooper and Summerbell house to team up and get excited for what is to come in January," head prefect of Summerbell David Hagler said.  
Mini-RUMPUS took place on Nov. 10-11 and had many familiar events. One of the main events was lip-sync.
"My favourite one is lip sync. It's always fun when everyone gets together and comes up with some dance moves in just 30 minutes even though we look awkward," sophomore prefect Neal Yin said.
In Lip sync your group picks a song out of four options and performs.
"I liked how we got to pick our song, "Eye of the Tiger," but we only had a few to pick from. It was a lot of fun and I enjoyed getting to do it befor the real RUMPUS," freshman day student Trinity Pyle said.
One of the more controversial events was the Fear Factor.
"I don't like fear factor,  just not comfortable to watch really," Yin said.
In Fear Factor you either had to eat a large amount of good food or a little amount of bad food.
"I did and it was really gross. I had to eat a combination of ice cream, chocolate syrup and grape juice, I think it was. I actually wasn't able to finish and a teammate had to drink the rest," freshman residential student Daria Black said.
A dodgeball tournament was also held at Mini-RUMPUS.
"Dodgeball was so exciting. The burst of adrenaline that rolled in when they shout 'go.' Even though I was being bombarded by balls, it was still fun to be out in the gym destroying all the other teams, even tho we lost," sophomore prefect Kaaliyah Potts-Heard said.
Mini-RUMPUS was not only meant to have fun, but to connect students and prepare them for RUMPUS.