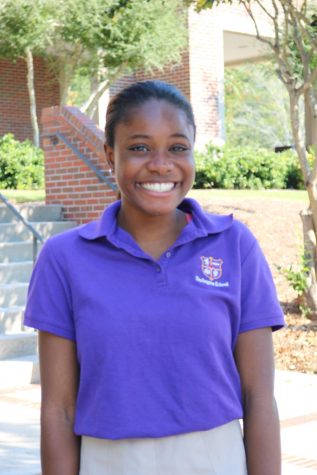 Marissa is currently managing editor of the Darlingtonian, and this is her second year working with the publication.
She is currently a Junior boarding student from Acworth, Georgia, in her third year at Darlington. She is currently an active participant on Darlington's crew team, Young Democrats Club, Model UN team, and IMPACT Club.  
In addition to her work on the Darlingtonian, Marissa is also a staff writer for the online social justice magazine Affinity.  
Marissa Joseph, Managing Editor
Feb 13, 2018

Senior Service Hours

(Story)

Feb 03, 2018

RUMPUS 2018: Gauntlet

(Story)

Jan 13, 2018

Rumpus 2018: Basketball Game

(Story/Media)

Dec 12, 2017

Honor Speaker: Justice Britt C. Grant

(Story)

Nov 06, 2017

AMPing Up Your Grades: The Academic Mentorship Program

(Story)

Oct 20, 2017
Sep 21, 2017

Wondering What's Next: Hurricane Irma Hits Close To Home

(Story)

Jan 26, 2017

New Year, Same Sickness

(Media)

Jan 14, 2017

RUMPUS 2017: Dodgeball

(Story)

Jan 13, 2017

RUMPUS 2017: Basketball Games

(Story/Media)

Jan 09, 2017

2017 Rumpus Theme Reveal

(Story)

Dec 09, 2016

Triumph for the Trousers

(Story/Media)

Nov 08, 2016

Calling All Students of Color: We Hear You

(Story)

Oct 03, 2016

Mohammed Al-Asfour '17: Ready For a Limitless Future

(Story/Media)

Sep 19, 2016

Saint Pablo Tour Review

(Story)

Apr 30, 2016

An Open Letter to the National Socialist Movement

(Story)

Apr 24, 2016

Peaceful Protest Against Hate

(Media)